Get Straight Teeth with Invisalign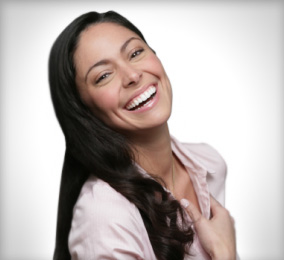 Traditional wire braces have been around for decades. Primitive forms of wire and elastic orthodontia can even be traced to the early 1800s. This technique for straightening and aligning teeth is time-tested.
However, it is not the best choice for every circumstance. The good news is that it doesn't have to be! Modern science has given us a number of great options and alternatives for your orthodontic needs.
One of those services, which we are proud to provide you in our Billings dental office, is Invisalign clear braces.
Benefits of Invisalign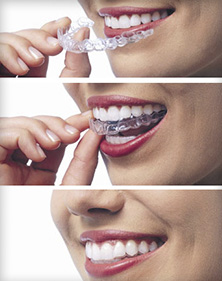 The Invisalign system is great for anyone who needs an orthodontic adjustment that is minimally intrusive into everyday life.
Invisalign is fast. The average time for a complete adjustment is about one year. With Invisalign, you'll spend less time wearing your aligners and more time enjoying their great results.
Invisalign doesn't hurt. There are no regular wire-tightenings or metal brackets. The Invisalign aligners are gentle on your mouth as they adjust your teeth.
Invisalign requires fewer dental visits. You are able to get multiple aligners all at once. Outside of the visit needed to create the initial model of your mouth, the only time you'll need to spend in the chair is for occasional checkups to make sure everything is progressing correctly.
Invisalign lives up to its name. These clear aligners are very nearly invisible.
How Invisalign Works
Traditional braces align your teeth by asserting pressure through a series of wires and brackets. This pressure is gradually adjusted until the teeth reach their designated space. Invisalign clear braces, on the other hand, are completely wire-free. No brackets. No elastics. Just straight teeth.
But if that's the case, how does Invisalign actually work?
Your Invisalign invisible braces treatment will start when we create a complete model of your mouth. With this model, we'll design a series of clear aligners made of high-quality medical polymer. These aligners never need to be adjusted. Simply take the old one out and replace it with the next in the series.
The pressure exerted by the slowly shifting shape of the clear aligners will act just like the wire and bracket pressure adjustments of metal braces. With each step in the series, your teeth will move closer and closer to their ideal location.
Get Invisalign With The Billings Dentist
If you're in need of orthodontic work, call us today. We'll be happy to discuss your needs, and answer any questions you may have about getting Invisalign clear braces in Billings, MT.
Related Dental Services