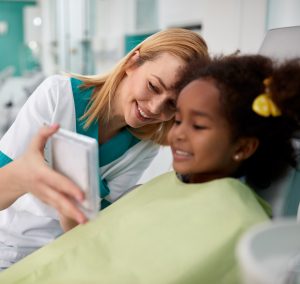 Dental assistants are essential to the efficient operation of any dental practice, and Neal C. Johnson DMD in Billings is no exception. In this article we'll describe some of their roles, and in a small way pay tribute to these valued team members.
In many ways, dental assistants are our right hands. They work closely with everyone here, from the dentist to the hygienists, to those at the front desk. On any given day, a dental assistant will clean dental tools, update dental records, and even schedule appointments. And that's to say nothing of providing excellent care to our patients.
When they are in an examination room with a patient, a dental assistant will wear the approprate safety gear: latex gloves, safety glasses, a surgical mask, and other protective clothing. It's as much for your protection as it is for theirs, but like everyone here, dental assistants must follow strict safety rules.
Dental assistants are one of the reasons why things run so smoothly here. It may sound a little trite, but the fact of the matter is that we couldn't do it without them!
At Neal C. Johnson DMD in Billings, people from Lockwood, Billings Heights, and Laurel appreciate the outstanding care they get from our dental assistants and the rest of our dedicated staff. Our services include family and restorative dentistry. Call to schedule your next checkup today!
Contact Neal C. Johnson DMD:
Location (Tap to open in Google Maps):
ArticleID 8189